For booking inquiries please email your requests with the following information:
› Date of the event:
› Location:
› Is this a private concert/kirtan/workshop:
› Number of expected guests:
› Will other musicians be a part of the event?:
Note the following requirements*:
– For international travel, air and accommodation are required
– For US/Canada travel, air and accommodation are required, unless event is in the state of California
– Sound, lighting and technicians are required for the concert (unless it is a private/home kirtan)
– Musicians (drummers, string/flute) are required or if you would like Dasi to provide her own musicians, additional charge will apply
– Bookings are considered confirmed when deposit is made (50% of agreed amount), air tickets are confirmed and purchased and accommodation is provided.*
*Unless personally approved by Dasi, these requirement(s) are non-negotiable.
Download Power Point Poster Template: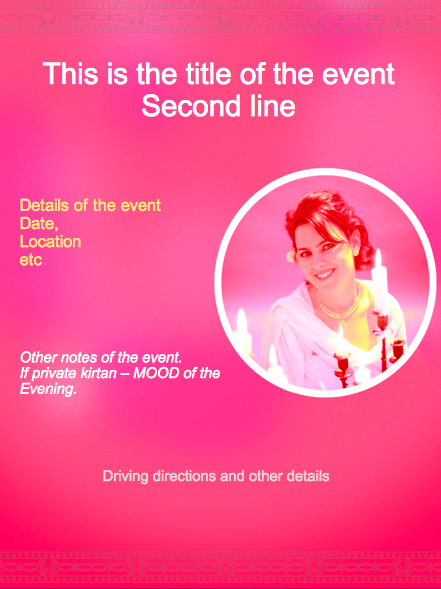 For PressKit (photos, bio, music samples) – please contact Dasi to gain access to the page.